Company Profile
Suvira International have since come up a long way to be recognized as one of the leading and reliable Manufacturers and Exporters of Audio Visuals and Laboratory products for use in Schools, Colleges, Universities, Research Institutes, Industry etc.

We are well known manufacturers of all type of Desktop/ Portable OHP, LCD/DLP Projectors, Motorised/Manual Projection Screen,Floor Projection Screen, Curve Projection Screen , White Board Screen, In Ceiling Screens, Optical Glass Screen, AIR Projection Screen , Front Fast Fold Screen, Rear Fast Fold Screen, Electric Projector screen, Fixed Frame Screen, Table Projection screen, SRS Projection screen, InstaLock Projector Screen, Motorized Projection screen, Autolock Projection screen, Tripod Projection screen, Manual Projection screen, Ceiling Mount, Episcope/Opaque Projector, Visualizer, Interactive Board, White/Chalk/Green Boards, Digital Imaging System, Motorized Lift, AV Trolly, Semi/Automatic Slide Projector.

"To successfully master the present, with innovative planning for the future and focus on unchallengeable Quality or total customer satisfaction are the stated goals of "Getner Group". In the year 1970, Mr. S.K Wadhawan with a mind overflowing with zeal & vigour and inspiration drawn from his illustrious father late Dr. Nanak Chand Wadhawan, entered the field of production and introduced to the world of science, quality instruments with a new brand name "GETNER" and within a short span of time his first production, "Getner Microscopes" for its high standard of quality & precision became a popular name among Medicose, Researchers, Analysts and Quality Conscious Users of Scientific Goods in the industry."

"Our product does not come back, but the customer does" , the Marketing & Sales department of Getner is well known of this fact & is confident as they know that Getner Group of Industries is on march towards 21st Century from 1970, hand & hand with leaders in the world of technology."

Our Inspiration Late Dr. Nanak Chand Wadhawan (1911-1964)

It gives me immense pleasure to introduce "GETNER GROUP OF COMPANIES". Its overseas associates and resume of some of our products which have already made their mark in the international market.

With inspiration derived from the vision of Late. Dr. Nanak Chand Wadhawan "Getner Group" formed in 1971 with Sky in the limit as the watchword, thrust on R&D and collaboration with leaders in the field of instrument technology in advanced / developed countries. "Getner" has acquired a place of prestige in the world of technology.

The secret behind this rapid success and expansion is a firm commitment to manufacture quality products of international standard and next to quality control. Our areas of priority is "Customer relations" followed by transparency and authenticity in our business dealings in which our overseas associates are actively involved.

Sh. S.K. Wadhawan
Founder and President of Getner Group

Our firm belief is that appreciation and approval of our esteemed patrons would be the real testimony of our sincere efforts.
Anu Wadhwa
(Director, Buss. Promotion)

Mona Banga
(Director, Publicity )

Vijay Wadhawan
Director, Industrial

Rajiv Wadhawan
Director, Audio Visual

Rajnish Wahwa
Director, Ophthalmic

Vikas Banga
Director, Dental
Mr. Toru Kawasumi
Export Manager

Below are some words of Mr. Toru Kawasumi who had joined Getner as an Quality Control & Export Manager, he says, " I am pleased to join Getner as their quality control and export manager in India because of my old affiliation with Getner-group of industries.

Getner is producing worlds finest quality research microscopes with high resolution optical system recommended for automatic photomicrography and computer compatible video systems. I can vouch for the excellent quality of Getner products, as I have 40 years of experience in the field of optical instrumentation during my association with worlds leading Japanese multinational companies as their quality control / export manager.

In a very short span Getner-group has achieved this technical supermacy with the co-ordination and full support extended by their overseas associated from Japan, Germany and zech Republic.

As you know Getner-Group has diversified in audio-visual industrial, ophthalmic and dental divisions, I can assure to all patrons from now onwards on behalf of Getner-group and myself as quality control manager that in future many new highly upgraded & technically superior world class medical instruments will be introduced as Getner-Group is committed to superior quality and service after sales up to customer satisfaction. "
Our Guides & Friends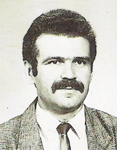 Mr. Vladimir Havlicek, President of V.H.S. commercial and technical services, Plen, Czech Republic (Born in 1953).
Mr. Vladimir Havlicek has 20 years of experience in machine tools industrial design of electronic controls as also machine and modern devices for special purposes. A well experienced engineer and consultant for modern industries and advisor for quality control and testing devices.